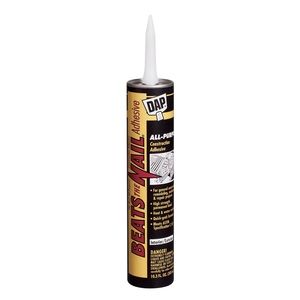 DAP BEATS THE NAIL All-Purpose Construction Adhesive is a high strength, weatherproof adhesive ideal for bonding a wide variety of building materials. The quick-grab formula provides a heat and water resistant bond with fewer nails or fasteners required. It reduces squeaks, nail pops and splitting.
For general construction, remodeling, maintenance & repair projects
High strength, permanent bond
Heat & water resistant
Quick-grab formula
Meets ASTM Specification C 557

$2.95
/ EA


$2.95





DA25082




Ready to Go!