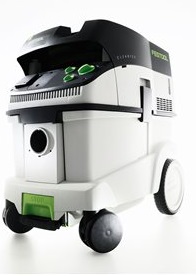 CT 36 AutoClean Dust Extractor - 584014

The CT AutoClean is the magic behind your PLANEX that makes it virtually dust-free. Insane amounts of suction suck up nearly every speck of dust leaving your client with a big smile on their face when you're done at the end of the day.

The CT AutoClean has an integrated filter cleaning mechanism that periodically knocks the dust free of the filter. This guarantees maximum air flow and prevents the filter from becoming caked with dust. The filter cleaning frequency is controlled by a dial and can be completely disabled. The CT AutoClean can be used as a regular dust extractor when run without the AutoClean enabled.
Includes an ultra-light weight, flexible hose for use with the PLANEX Drywall Sander and other tools that accept a 36mm (1-1/2") hose.

Automatic filter cleaning technology ensures maximum suction when used with Planex Drywall Sander, 1 micron high-performance filter
Automatic Tool Start & adjustable suction with tool triggered or manual on-off switch and infinitely variable suction force, can be used wet or dry Supplied with lightweight 11-1/2 foot long anti-static hose that is flexible and kink-resistant and will minimize shock hazards as well as reduce static cling
Sys-dock and hose garage feature allows for the storage and transport of Festool Systainers (not included) on the top of the flat, low-profile unit Large wheels, low center of gravity, and ergonomically balanced design allows you to move the CT effortlessly around the jobsite

$875.00
/ EA


$875.00





FT584014




Ready Now!