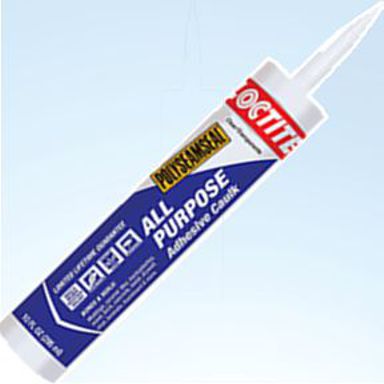 Loctite Polyseamseal All-Purpose Adhesive Caulk is a premium grade water-based caulk designed to have the strength of an adhesive and the sealing characteristics of a caulk. Loctite Polyseamseal All-Purpose bonds to almost any surface including wood, concrete, metal, ceramic, drywall, plaster and much more. Easy to apply and tool. Environmentally safe, soap and water clean-up. Contains no silicone. Sealing air leaks around windows, doors and other utility and plumbing penetrations. Almost any household or remodeling project. Repairing or concealing small cracks in plaster, drywall or around moulding and baseboards. Gluing loose moulding or tiles, securing backsplashes, setting sinks. Permanently flexible and durable.
10 ounce cartridge. Clear.
Loctite/Henkel Corporation.
LO68798