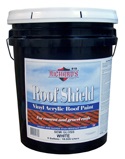 Roof Shield Vinyl Acrylic Semi-Gloss Roof Paint.
A premium quality latex roof coating specially designed for application to a variety of roofs. Easy to apply its special formulation provides excellent coverage, and a smooth flat finish that offers superior durability, weather resistance, fade resistance, and is mildew and algae resistant. Not For Use On Surfaces That May Experience Ponding Water. For Exterior Use Only.. Five Gallon pail. White Semi-Gloss. Richards Paint
Low VOC
Weather Resistant
Mildew & Algae Resistant
Superior Durability
Excellent Coverage
Easy to Apply

$182.20
/ 5G


$159.82





RI818-5




RICHARDS PAINT MFG. CO., INC.