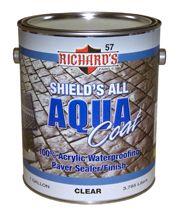 #57 Shield's All Aqua Coat 100% Acrylic Waterproofing Paver Sealer/Finish

A specially formulated, clear sealer/finish specifically designed for application to brick pavers, concrete floors, and other cementitious floor substrates. Its special 100% acrylic resin formulation provides a durable finish that penetrates and seals the surface, while protecting the surface from powdering, oil and grease stains, and it resists moisture penetration. Easy to apply, it provides superior wear resistance, excellent adhesion, product versatility, and provides superior UV light resistance. Its rich gloss finish enhances the color of brick pavers, resists hot tire pick-up, seals and waterproofs the surface, and is VOC Compliant. For interior & exterior use.

$34.47
/ GL


$30.22





RI57-1




RICHARDS PAINT MFG. CO., INC.