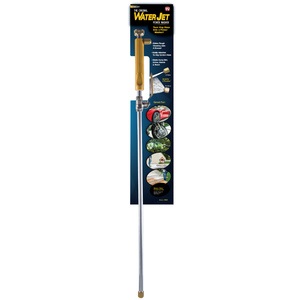 The Water Jet's clever design uses a controlled flow to build a powerful jet stream right from your garden hose. It turns any hose into a power washer! The Water Jet is your easy, economical solution for tough outdoor problems. Water Jet puts the power of a professional power washer in your hands by simply connecting the nozzle to any garden hose. The control valve allows you to adjust the pressure and force of the jet stream.
Easily wash your car, truck, camper, or boat and tackle dirty wheels and rims
Blast weeds and grime from brick and concrete patios, pool decks, and driveways
Safely reach 2nd story windows and remove wasp nests from a distance
Easily connects to any garden hose
Two nozzles stream and fan spray
Quick and easy to use
Made of stainless steel, aluminum, plastic and brass

$29.89
/ EA


$24.89





BL88497




Ready to Go!