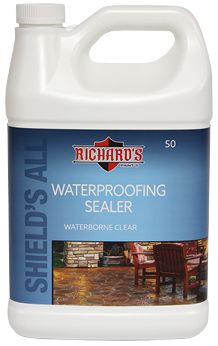 50 Shield's All 100% Acrylic Waterproofing Clear Sealer
Formulated to provide superior protection from moisture penetration and the effects of weathering on a variety of properly prepared substrates. Once applied, it may be painted over with acrylic/latex-based coatings, oil-based coatings, epoxy coatings, urethane coatings and elastomeric coatings. It may also be used as a surface conditioner for lightly chalked painted substrates. It is mildew resistant, blocks graffiti, is nonflammable, resists salts and acids, is safe for use on pre-colored cementitious surfaces, aids in the curing process of masonry substrates, is fast drying and easy to apply. It may be mixed with latex-based coatings (1 part Shield's All to 10 parts latex paint), to improve products overall weatherability and is non-toxic. It has low VOC, is fast drying and is environmentally safe. For interior and exterior use. Clear. Gallon. Richards Paint.
100% Acrylic Formula
Penetrates & Seals
Waterproofs
Mildew Resistant
Dries Clear
Easy To Apply
Environmentally Safe
Can Add To Latex-Based Paints

$22.80
/ GL


$20.00





RI50-1




RICHARDS PAINT MFG. CO., INC.